Georgia Oil and Gas Limited is the Premier Sponsor, Lunch and Field Trip Sponsor of the AAPG Europe Regional Technical Workshop 18-19 September 2019, Batumi, Georgia.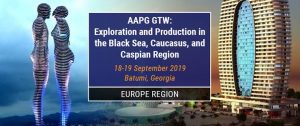 The GOG leadership team attending the event will be Niko Tevzadze and Alexander Janiashvili. One of the workshop presentations will be on the topic of "Untapped World Class Gas Potential of Central Georgia", presented by Arif Yukler (Chief Exploration Advisor). GOG will have a stand at the conference showcasing the company's investment opportunities and ongoing projects and operations with the opportunity for networking with participants from other interested E&P companies and from various academic institutions engaged in research in the broader region.
The meeting programme will also include two one-day field trips, before and after the event, from Batumi to the nearby Rioni Basin and the Achara-Trialet thrust-fold belt where GOG (led by David Vakhania and Onise Enukidze) together with OMV (Gabor Tari) will describe the regional geology, local outcrops and stratigraphy with additional discussions on the implications and understanding for the subsurface petroleum geology.