"Exploration and Development of Georgia's Hydrocarbon Resources."
Complex geology and reservoirs require both local knowledge and experience combined with an international outlook and approach. Georgia Oil and Gas Limited (GOG) is an ambitious Georgian company with the aim to become the premier independent oil and gas exploration and development company in Georgia by acquiring and developing exploration licences and using and applying new exploration techniques and acquiring additional seismic data.
GOG has working interests 11 Production Sharing Contracts ('PSCs') in Georgia (namely XIA, XIG, XIM, XIN, VIII, XIK, XIL, IXA, XIII, XIV, North Satskhenisi, Martkopi, Satskenisi) with the exploration license blocks valid until 2037-2039 (+ 5 years). GOG's main interests are adjacent to the strategic position of Samgori-Patardzeuli Field, and within the region's prolific Kura basin, which at its peak produced approximately 70,000 bopd and in the course of its history has produced over 200 MMbbl.
Georgia is a stable, business friendly nation with proven but underdeveloped oil and gas reserves and is of increasing interest to major producers.
GOG was co-founded by Mr Niko Tevzadze who is also the company Chairman. The management team consists of experienced industry professionals in geology and geophysics, operating, drilling, commercial and technical expertise with extensive experience internationally and in Georgia.
Georgia Oil & Gas Limited ('GOG') was founded in 2010 in British Virgin Islands (BVI), first licenses were acquired in April 2011 from its shareholder company NOC (Norio Oil Company). GOG is 100% owner of Georgia Oil and Gas Limited (Georgia Branch) which acts as the representative office and Norio Operating Company Limited which acts as an operator for GOG's field operations.
Currently GOG has a net acreage position of 13,334 km2 with working interests in 11 Production Sharing Contracts ('PSCs') in the Central part of the Republic of Georgia.
GOG's portfolio is located in the productive Kura Basin and is served by existing infrastructure including three pipelines. Georgia has a positive fiscal regime and the country benefits from a stable, simple, transparent and investor friendly environment. Production Sharing Contracts ('PSCs') and fiscal terms with regards to oil are positive for investors.
GOG's exploration is focusing on three types of plays:
Deep Middle Eocene play in the Kura Basin "Norio Deep" – the same petroleum system as Samgori-Patardzeuli, the biggest oil-field in Georgia, but in the deeper traps;
Shallow Middle Eocene and Upper Eocene subshale play, where, by horizontal drilling and fracking it is possible to considerably increase production from existing sub-commercial discoveries starting from discoveries around Samgori-Patardzeuli and extending down to Azerbaijan.
Least explored – but in the case of success holding huge resources of oil and gas – Jurassic source South Kitchen next to the Turkish and Armenian borders.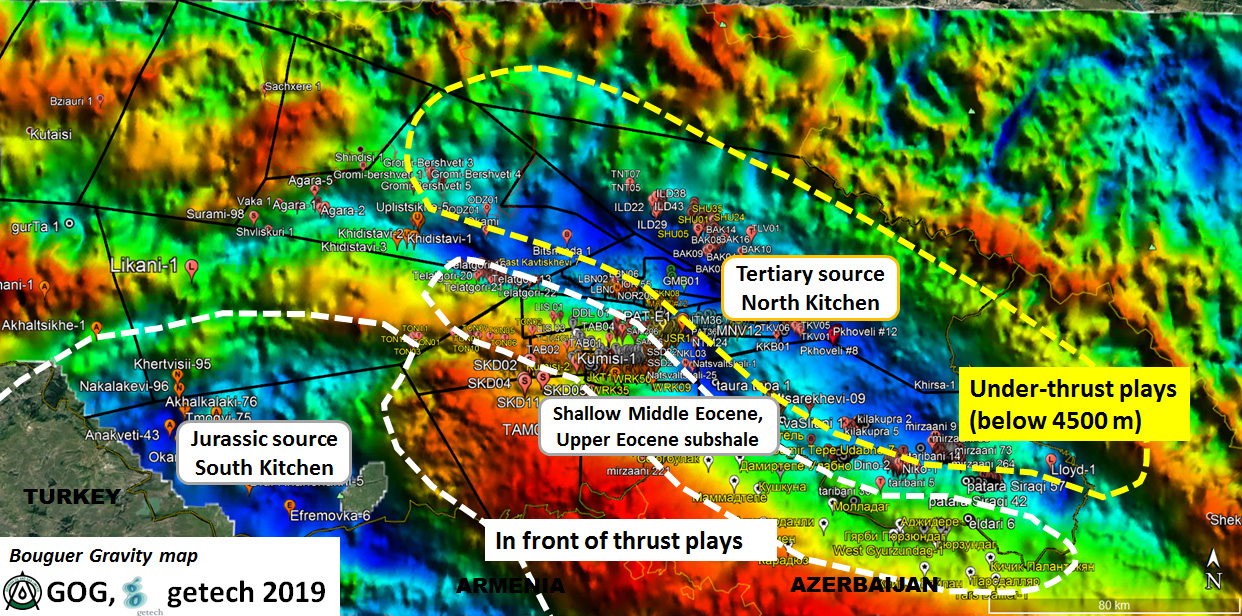 Corporate HSE Policy
All GOG projects and operations are conducted in accordance with GOG's developing robust Health, Safety and Environment (HSE) framework which is in accordance with both Georgian legislation and international oil and gas industry codes and standards.